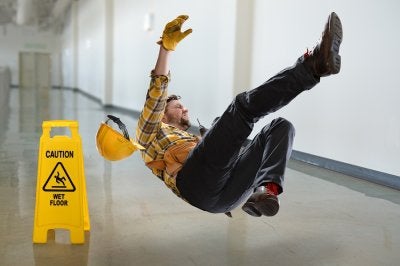 When a slip and fall accident that results in injuries happens on someone else's property, you may have grounds for a civil lawsuit. To substantiate your case, there are a few steps you should take even before you contact a personal injury lawyer in Riverside. Provide copies of all of the evidence you gather to your lawyer. He or she will use this evidence to seek compensation on your behalf for your medical bills and physical pain.
Report the Accident
If you fall in a store, restaurant, library, or other public place, call attention to the incident immediately. Depending on where you have fallen, the property owner or manager may have established guidelines for reporting accidents. You might be asked to fill out some paperwork. If you do file a written report, ask for a copy for your records.
Look for the Cause
A successful slip and fall lawsuit requires demonstrating that a hazardous condition existed that caused you to slip or trip. If possible, document the hazardous condition right away because the property manager may correct the hazard promptly after your fall. Take photos of damaged handrails or steps, uneven flooring, spilled liquids, or other hazards that caused you to fall. If you don't have a cellphone or camera with you, write down a precise description of the area and the hazardous condition.
Write Down Witness Information
Witness statements can play a significant role in a slip and fall lawsuit. If anyone witnessed the accident, ask them to write down their names and contact information. Your personal injury lawyer can question them later.
Seek Medical Attention
If you have severe injuries like a broken bone or a possible concussion, don't try to drive yourself to the hospital. Call 911 instead. Even if your injuries appear to be relatively minor, you should still seek medical care because you might have internal injuries. Additionally, your medical records will substantiate your case. Retain all of your medical bills and receipts, pharmacy co-pay receipts, discharge sheets, written instructions from doctors, and all other documentation pertaining to your health status. These documents will prove the extent of your losses.