Electrocution Accident Lawyer in Riverside, CA
Representation Following Electrocution Injury Accidents
Over the years, the Law Offices of Harlan B. Kistler has provided high-quality representation to clients facing the repercussions of various injuries, including electrical-caused accidents. We are experienced electrocution accident lawyers with the knowledge to prove another party's responsibility for your injuries. Mr. Kistler's professional accomplishments include being selected as one of California's top lawyers on the California Super Lawyers® list in 2012 and winning fair and just compensation for his clients. If you were electrocuted and someone was at fault, you can trust our firm to handle your case.
What Is an Electrocution Personal Injury Claim?
Electrocution accidents can cause severe and long-lasting medical issues. Therefore, it is essential to act quickly following electrocution. Our attorney can help you file an electrocution personal injury claim by carefully following all the steps in the process. We file the lawsuit against the negligent party or parties and work hard to give you the settlement you deserve. Our team can help you receive compensation for lost wages, pain and suffering, and medical bills. If you are filing on behalf of someone who died due to the accident, we will also file a wrongful death lawsuit. We often file workers' compensation lawsuits because many electrocution incidents occur on construction sites.
What Causes Electrocution Accidents?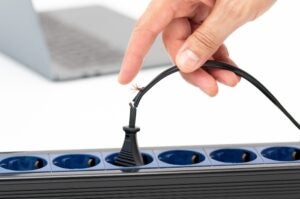 Most of our clients sustained injuries on job sites. Electricians, crane operators, tree trimmers, utility workers, and construction specialists are most at risk. Many risks include exposed wiring, improperly installed wiring, defective appliances, ground fault failure, and more. Your employer has a responsibility to maintain an OSHA-compliant atmosphere. And if you are working on public or private property, the landowner must promptly resolve issues.
How Can Your Electrocution Accident Lawyer Help?
We know how to help our clients begin life anew. Electrical shocks can devastate your life by upending your career and causing chronic pain or loss of bodily function. Fortunately, we can do many things to help. During a personal injury lawsuit over an electrocution accident, we can help receive the following kinds of compensation:
Medical Bills: Severe electric shocks can leave painful burns on your body and permanent scars. Cataracts are common when the shock passes through the eyes. Other medical bills will treat ongoing pain, tingling, numbness, and muscle weakness. We can help.
Lost Wages: If your accident was severe enough to force you to miss work, you'll find it hard to pay the bills or your mortgage. One of the primary motivations behind filing a lawsuit is obtaining much-needed compensation to keep your head above water.
Pain and Suffering: Pain and suffering are always part of personal injury lawsuits. Often, these two factors have the most significant impact on your life. It is essential to receive the compensation needed to begin living an everyday life again.
Future Loss of Earnings: Many people can eventually return to their careers following electrocution. But not always. If your accident forced you into early retirement or out of your field, you are entitled to compensation for future loss of earnings.
Medical Supplies: Medical equipment is costly. And unfortunately, if you have long-term issues related to electrocution, you will have to purchase and maintain items that treat or manage your condition.
Contact Our Electrocution Injury Lawyers Today
At the Law Offices of Harlan B. Kistler, we prioritize our clients' happiness above all else. It is essential to hire an attorney who isn't afraid to fight vigorously for your rights. We are that law firm. We use our knowledge of the law and experience to build an ironclad case. We aim to achieve the best possible outcome with as little headache as possible. We know a drawn-out case does you no good. You can trust our attorney to keep your best interests at heart throughout the process. Contact us today to get started.
Why Choose Us
Free Consultations Available
Over 25 Years Experience
No Recovery? No Fee!
Individualized Service
Our Firm Has Successfully Represented More Than 2,000 Clients, Recovering $5,000,000 Dollars For People Just Like You.