Construction Accident Attorney in Riverside, CA
Experienced Construction Accident Lawyer
At the Law Offices of Harlan B. Kistler, we have extensive experience handling construction accident injury cases. Due to the dangerous nature of construction sites, it's not uncommon for employees to sustain injuries and faces uphill legal battles with other contractors. Many construction site accidents happen because the safety engineers and individuals overseeing the project are either negligent or proper safety procedures aren't enforced.
At the Law Offices of Harlan B. Kistler, our experienced personal injury lawyer knows how to fight for you to ensure you're compensated. You can count on us when you need legal help in Riverside, CA, and surrounding areas. Call us to get in touch with our construction accident lawyer in Riverside today!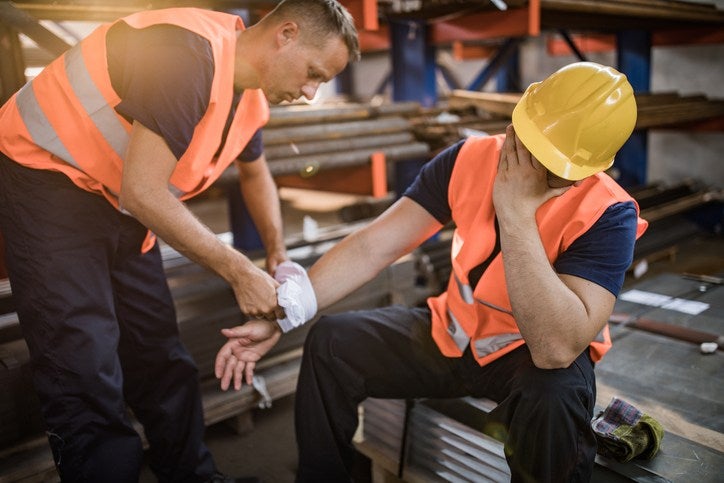 What Is a Construction Accident?
There are several possible hazards at a construction site, and more than 20 percent of all fatal accidents on the job occur at construction sites. Without proper safety measures in place and experienced personnel overseeing the site, serious injuries can occur. Some of the injuries our clients have sustained include:
Roof or floor fall accidents
Nail gun accidents
Compressed gas accidents
Welding accidents
Mechanical malfunctions
Workers hit by falling objects
Car and truck accidents
Electrocutions
Forklift injuries
Scaffolding accidents
Explosions
Welding accidents
Why Hire a Construction Accident Lawyer?
If you've been injured in a construction site accident and you aren't sure what steps to take, contact the Law Offices of Harlan B. Kistler. There is a statute of limitations for many personal injury lawsuits, meaning there is a limited time frame to file a lawsuit after your injury. We can help ensure that you don't waive your rights to compensation and get the best possible outcome for your case.
Cost of a Construction Accident Lawyer
Many lawyers charge on a contingency fee basis. This means that you do not need to risk any money upfront, as your attorney will only get paid if they win you a settlement or favorable verdict. A contingency fee is a percentage of your compensation at the end of your case. This percentage varies depending on the length of the case, and its complexity. Contingency fee options are a sliding scale and a tiered fee.
Sliding scale: The percentage of the settlement that goes to the attorney varies depending on the amount of money awarded in the settlement. The percentage is typically lower the greater the monetary amount awarded.
Tiered fee: The contingency percentage increases depending on what stage the case progresses to. In this option, the percentage increases if the case progresses from settlement to trial, and to appeal.
Common Construction Accident Injuries
Common construction accident injuries include:
Amputations
Broken bones
Burns
Cuts
Death
Eye injuries
Head injuries
Loss of hearing
Neck injuries
Paralysis
Toxic exposures
Fatal Construction Site Accidents
OSHA statistics in 2017 showed that the most common fatal accidents in construction sites, accounting for 971 total deaths, were:
Falls – 39.2%
Struck by an object – 8.2%
Electrocutions – 7.3%
Caught in / Between (crushed) – 5.1%
How to File a Construction Accident Claim
After an accident, there are deadlines and specific procedures to follow. First, you have up to 30 days after an injury or accident to report it to your employer. It is a good idea to consult your supervisor and employee handbook on how your company's reporting procedures work. After notification, you have one year to file a workers' compensation claim.
If your employer refuses to file a workers' compensation claim, consider getting an attorney to represent your interests. An attorney can help you determine if there are grounds for a lawsuit. Compensation will depend on the ability to prove third-party negligence. The elements of negligence are that a third party owed you a duty of care, that the third party failed that duty of care, that you suffered injuries as a direct result of that failure, and that your injuries have resulted in financial loss.
Who Is Liable for My Injuries?
Because liability in construction accidents is complex, having an experienced construction accident attorney on your side is essential to help you through the process. In many cases, the individual seeking damages can't sue their employer directly, but rather a third party. Contractors, equipment manufacturers, architects, engineers, and owners may be held responsible for construction site accidents. Our experienced legal team at the Law Offices of Harlan B. Kistler can help you through the process of liability with your construction site accident case.
If a third party is found to be liable, the types of damages that are available include lost wages, lost benefits, current, and future medical expenses, pain and suffering, punitive damages, and more.
How Do Construction Accident Lawyers Collect Evidence?
Construction accident law firms conduct thorough investigations to determine the cause of your construction accident. The first step is gathering as much information as possible. Construction accident attorneys will collect documentation and witness evidence, such as the injury report, witness statements, security footage, medical records, and maintenance records.
Document Evidence After a Construction Accident Injury
Not all injuries are immediately evident, and it is important to immediately seek medical care, either in the form of an ER visit, or a visit with your primary care provider as soon as possible. This allows trained medical staff to determine if you have an injury and if that injury is because of your construction site accident.
You should write a detailed account of the incident. You should also take photos and/or videos of the scene, equipment involved, security cameras, injuries, maintenance records, and anything else that might be important. Speak with witnesses to get a written or recorded statement and gather their contact information.
Common Causes of Construction Site Accidents
The most common construction accident injuries are falls. Other common accidents include:
Caught in between equipment or materials
Conveyor accidents
Defective equipment
Electrocutions
Explosions
Fires
Hazardous chemicals
Poor onsite supervision
Slips/falls
Structural collapses
Vehicle accidents
Common Construction Accident Injuries
Broken bones
Burns
Death
Eye injuries
Head trauma
Limb damage/loss
Muscle damage
Neck injuries
Paralysis
Sprains
Compensation for Construction Accident Injuries
The Law Offices of Harlan B. Kistler can guide you through the process so you can make informed decisions about your claim. For example, you cannot file a lawsuit against your employer directly. You must make a claim through the workers' compensation system. However, if your accident involved a party other than your employer, you can pursue legal action against that party. If you are unsure of what you can and cannot do, and what the appropriate legal avenues are to pursue your claim, speak with the Law Offices of Harlan B. Kistler today.
Contact Our Construction Site Injury Lawyer
When you need a reliable, experienced construction accident lawyer for your personal injury case, we can help. We have years of experience handling personal injury cases for our clients in Riverside, CA, and the surrounding areas. At the Law Offices of Harlan B. Kistler, we're committed to providing expert legal representation, and we operate on a "no recovery – no fee" policy. Contact us today for your free legal consultation.
Why Choose Us
Free Consultations Available
Over 25 Years Experience
No Recovery? No Fee!
Individualized Service
Our Firm Has Successfully Represented More Than 2,000 Clients, Recovering $5,000,000 Dollars For People Just Like You.