The Law Offices of Harlan B. Kistler
Back Injury & Spinal Cord Attorney in Riverside, CA
If you have suffered a spinal cord or back injury in the Riverside, CA area due to negligence, call The Law Offices of Harlan B. Kistler today. If your spinal or back injury is severe enough, it could lead to you not being able to walk, and the medical bills can pile up if you need surgeries and specialized equipment. Our team is here to help you get the compensation you need to cover these expenses and missed work.
Our personal injury lawyer will work with you through the entire process, from your initial consultation to cashing your compensation check. Reach out to our dedicated team today and set up your initial consultation.
How Can a Spinal Injury Attorney Help?
A spinal injury can negatively impact every area of your life. While you are incapacitated and unable to work, care for your family, or even perform routine household tasks, it is very important to ensure that your injury case is handled correctly. The Law Offices of Harlan B. Kistler will handle your case and work to ensure that you receive the compensation that you are due. Spinal injuries can require lifelong care, so it is important that you have someone on your side who knows how to estimate the value of your claim and protect your rights.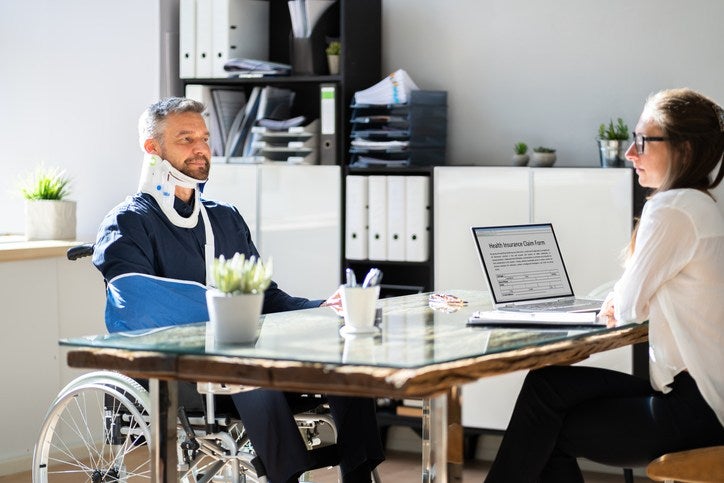 How Does a Spinal Cord Injury Lawyer Determine Fault?
How fault is determined always varies for each case, but typically the process involves an investigation to collect evidence and identify liable parties. Once the evidence to support your claim is gathered, your attorney can present the evidence to the party that is deemed responsible for your injury. The evidence in question may be witness statements, surveillance footage, police reports, accident reports, and pictures of the accident scene, among other things.
Types of Spinal Injuries
There are four sections of the spine: cervical, thoracic, lumbar, and sacral. Any of these sections may be affected by a spinal injury. Spinal cord injuries are categorized into two different levels – complete and incomplete.
Complete: An injury that causes permanent damage, such as tetraplegia or paraplegia.
Incomplete: An injury that causes partial damage to the spinal cord, that does not completely remove sensation or the ability to move. Severity varies depending on the injury.
Common Causes of Spinal Injuries
Car Accidents: Have you recently been in a car accident? Even if you don't feel any pain currently, see a doctor to make sure that you were not injured, as some injuries are not immediately symptomatic. If you find there are potential future health concerns, reach out to the Law Offices of Harlan B. Kistler. We can help you get the compensation required to start early rehab and prevent injuries from becoming worse.
Slip-and-Falls: If you fell inside a business due to an unsafe condition and now you are dealing with a back injury, give us a call at the Law Offices of Harlan B. Kistler. Businesses can and should be held responsible for keeping their space clean and clear of obstacles.
Product Liability: If you were injured by a defective product or unsafe equipment, reach out to us. We have helped many clients in Riverside, CA get the compensation they deserve for unsafe or defective products with malfunctioning safety features.
Damages Available to Spinal Cord Injury Victims
At the Law Offices of Harlan B. Kistler, we have assisted in helping clients recover medical bills and lost wages, as well as monetary damages resulting from pain and suffering due to spinal cord injuries. We can also assist families who have lost a family member in a wrongful death due to a spinal cord or back injury.
You may be compensated for damages that include, but are not limited to medical care, medical equipment, pain and suffering, home renovation, emotional distress, and wrongful death.
Call Us for Spinal Cord and Back Injury Compensation
At the Law Offices of Harlan B. Kistler, we have helped Riverside, CA residents get the compensation they need and deserve when facing spinal cord and back injuries. We dedicate ourselves to your case because we understand the trials and tribulations that come with these types of debilitating injuries. Let us put our experience and knowledge to work for you. Call today to set up an initial consultation and let us help you through this trying time.
Why Choose Us
Free Consultations Available
Over 25 Years Experience
No Recovery? No Fee!
Individualized Service
Our Firm Has Successfully Represented More Than 2,000 Clients, Recovering $5,000,000 Dollars For People Just Like You.