Do I Have a Personal Injury Case? We Can Help You Decide!
Talk to Our Personal Injury Lawyer in Riverside, CA Today
A personal injury case can take many different forms, and at The Law Offices of Harlan B. Kistler, our team helps you decide whether or not you have a case to put in front of a judge. In general, a personal injury lawsuit involves a person who is injured in an accident that someone else was responsible for causing. Our personal injury lawyer in Riverside, CA has been helping area residents for over 30 years decide whether or not they should take their case to court or if they should try for an informal settlement. We can also suggest options like mediation and arbitration to handle the issue.
Accidents occur almost every day, but it's too often the driver is texting and inattentive. They should be held responsible for their actions and the consequences of them. The Law Offices of Harlan B. Kistler will help bring you justice. You shouldn't have to pay for hospital bills, car repairs, or other incidentals when someone else is to blame. Expect our team's full attention when you reach out for our help. Give us a call today and let us help you get the compensation you deserve after suffering your accident.
The Most Common Personal Injury Lawsuits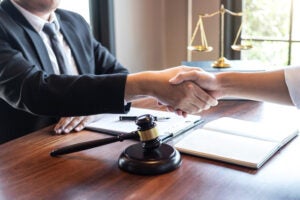 Over the past quarter of a century, our law experts at The Law Offices of Harlan B. Kistler have seen a lot when it comes to deciding whether or not clients should go to court. We have offered our advice to the residents of Riverside, CA on everything from trip-and-fall cases to ones involving wrongful death. Below are some of the many personal injury lawsuits we have handled in the past. If you don't see your type of case listed here, don't let it stop you from calling our personal injury attorney and asking about how we can assist. Set up your consultation today to discuss any of the following:
Motorcycle or Auto Accidents: If you get struck by a motorcyclist or driver, either in your car or while walking, it should be up to them to take care of your personal injury costs. Hit-and-runs can be especially difficult to deal with, but our expert team has the experience to help you get the compensation needed.
Government Liability: If you were injured due to the negligence of a government employee, call The Law Offices of Harlan B. Kistler right away. Your timeframe for submitting your claim can be tricky, but we have many years of experience handling cases where the government is at fault.
Wrongful Death: If your loved one passes away due to an accident and there was someone else to blame for the incident, we can look into it and help you develop a case to pay for funeral expenses and more.
Accidental Burn Injury: If you have suffered even the slightest burn injury, it can cause more damage than the physical ones that people see. Call us to help with your compensation for your injuries, both physical and mental.
Slip, Trip, or Fall Accidents: If you fell down in a grocery store and needed to go to the hospital, the store could be held accountable if it allowed an unsafe condition to exist. Hospital visits, no matter the extent of your injury, can get expensive. Don't get stuck with the bill. Let us help today!
Trucking Litigation: If you or a loved one suffered an accident because of a semi-truck driver, we can help seek justice from the trucking company and the driver to get you appropriately compensated.
Workplace Injury: If you experience an accident while you are working or driving for your job, we can look into getting you more than just the workers' compensation you deserve. We may also be able to build a case against the person who caused the accident.
Elder Abuse/Nursing Home Negligence: If you suspect the nursing home or retirement community you set your parents or grandparents up with is abusing them in any way, it is time to give us a call. We have helped with physical, mental, sexual, and financial abuses in care facilities.
Serious or Catastrophic Injury: If your accident or injuries have landed you in the hospital for an extended stay or you have to go through extensive surgeries, don't get stuck with the bill when it was someone else's fault.
Bites from Pets: California holds all dog, cat, lizard, bird, and any other pet owners fully responsible for their animals. If you are bit and injured, you can receive the compensation needed to take proper care of your injuries.
Call The Law Offices of Harlan B. Kistler for Further Help
Reach out today to The Law Offices of Harlan B. Kistler to see if you have a case for a personal injury lawsuit in Riverside, CA. Our personal injury lawyer will go over the details and help you put the case together or find out if there is another way to seek justice for your harm or losses. We can even help if it is your loved one who was injured because of an issue at a retirement home. Find out what our personal injury attorneys can do for you.
Why Choose Us
Free Consultations Available
Over 25 Years Experience
No Recovery? No Fee!
Individualized Service
Our Firm Has Successfully Represented More Than 2,000 Clients, Recovering $5,000,000 Dollars For People Just Like You.