Government Liability Case Attorney in Riverside, CA
Personal Injury Lawyers in Riverside 
When you have experienced a personal injury due to negligence, non-adherence to regulations, or the direct actions of someone else, you are facing medical bills, potential long term disability, work loss, and emotional strain. When your injury is not your fault, you should not have to pay. That's where we come in. Our personal injury attorneys at The Law Offices of Harlan B. Kistler have more than 25 years of experience representing those who have been wronged in our community.  
We are just a phone call away—reach out to our team to discuss your legal options moving forward after an accident. Depending on the type of injury, you may face a time limitation in which you must report your injury—don't hesitate! Call us today for a complimentary consultation to explore any action that may result in you getting your medical bills paid, and your mind put at ease after you were hurt due to someone else's wrongdoing.  
Explore your legal options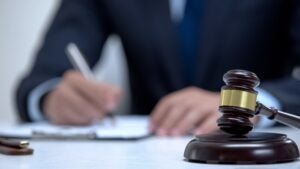 Government liability cases in the State of California must be reported within 2 years of the injury occurring. Don't wait to call a qualified and skilled personal injury attorney until it is too late to pursue legal action. Call us right away so we can discuss your potential compensation. 
If you were injured, you may be wondering when the government is considered at fault. The most conservative approach to take is to file a claim if you think that a government agency may be at fault—no matter if they turn out to be at fault in the end. That's because the statute of limitations is quite short; each government defendant—including the city, the county, or the Federal government—gets to determine how long an individual has to sue them, what rules must be followed based on the claim, and the regulations that surround such claims. The only way to properly file a claim and to protect your rights as a citizen is to hire a good attorney. Call us today. 
Common government liability cases
Have you been injured but you're not sure whether your case falls under the "government liability" category? Take a look at some of the most common government liability cases:  
An injury caused by an auto accident that involve

d

 government

–

owned vehicles

 

An injury caused by an auto accident that was caused by improperly maintained roads, dangerous intersections, lack of proper or visible road signage, etc. 

 

A slip, tr

ip, or fall accident that occurred

 in a government building or on publicly owned property

 

An injury caused by

 the negligence of public schools or public school districts

 

An injury or assault that occurred because of a violation of civil rights by a law enforcement officer 

 

 
We will thoroughly discuss your various legal options with you—whether that means negotiating a reasonable settlement or taking the government entity to court. Depending on your specific case, your injury, and the amount of time that has elapsed since your injury, we'll discuss your potential compensation. Learn more about going up against a government entity to get the compensation you deserve.
With our years of experience representing cases like yours, we will advise the best strategy for you and your particular situation. Call us for a free consultation before it is too late. 
Why Choose Us
Free Consultations Available
Over 25 Years Experience
No Recovery? No Fee!
Individualized Service
Our Firm Has Successfully Represented More Than 2,000 Clients, Recovering $5,000,000 Dollars For People Just Like You.