Wrongful Death Attorney in Riverside, CA
Trusted Personal Injury & Wrongful Death Lawyer
Coping with the loss of a loved one is extremely difficult, and your grief may be made even worse if your loved one has been killed in a preventable accident caused by the negligence or malicious actions of an individual or organization. The Law Offices of Harlan B. Kistler specializes in wrongful death cases and personal injury cases in Riverside and San Bernardino Counties, CA.
If you have a loved one who was the victim of wrongful death, you can pursue legal action to recover funds that can cover funeral expenses, loss of income, and more. We know that nothing can replace your loved one, but you may be able to hold responsible parties accountable while relieving the financial burden of your loss so you can focus on honoring your loved one. The Law Offices of Harlan B. Kistler would be happy to offer you a free case evaluation, so get in touch with us today.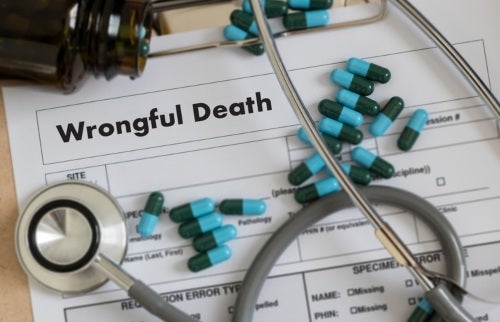 Compensation for Wrongful Death
What Is Wrongful Death? Some of the reasons you may choose to pursue a wrongful death case include auto accidents, criminal behavior, airplane accidents, preventable occupational hazards, medical malpractice, environmental hazards, and more. Direct action against an individual does not need to be present in a wrongful death case. Many cases are built on proving negligence on behalf of another party. Our personal injury lawyer in Riverside can help you determine if the loss of your loved one was due to wrongful death.
Who Can Recover Compensation? Plaintiffs in wrongful death cases are usually the children or spouses of the deceased, but any family member or dependent suffering financially from the loss can pursue a case. The Law Offices of Harlan B. Kistler will gladly provide you with a free consultation to discuss your options. A wide range of cases fall into the category of wrongful death, and you may not realize you are eligible to receive compensation.
What Type of Compensation Can Be Received? There are many types of compensation that can be received in a wrongful death case. The amount of compensation awarded is referred to as pecuniary loss. This figure can include the costs of funeral and burial expenses, income loss, loss of guidance or training, loss of benefits from the deceased, loss of household or caregiving services, and more. The courts consider the following factors when determining compensation for eligible family members: loss of companionship, savings of the deceased, degree to which survivors were financially dependent on the deceased, and expenses incurred for medical and funeral costs.
What Type of Compensation is Not Recoverable? Notably, wrongful death lawsuits do not provide compensation for the survivors' grief, sorrow, pain, and suffering, nor does a wrongful death suit allow the award of punitive damages.
Do I Need a Wrongful Death Attorney?
Filing legal claims is a complex matter in the best of times, and after suffering the loss of a loved one, it will not be any easier. It can be difficult to deal with a legal case within the two-year time limit you have to file a case, so a wrongful death attorney can ensure that you do not get overwhelmed by legal complexities or miss out on compensation that you and your family are owed.
Elements of a Wrongful Death Claim
To prove a wrongful death claim, four elements must be demonstrated:
Negligence: The defendant's actions were reckless, negligent, and directly caused the wrongful death.
Breach of Duty: The defendant did not act in a responsible and safe way.
Causation: As a result of the breach of duty, the defendant directly caused the death of the deceased person.
Damages: The victim's death has resulted in losses for the next of kin.
Who Can File a Wrongful Death Claim in Riverside, CA?
The legal next of kin of the deceased has the right to file wrongful death claims. Generally, the surviving family members that can file a wrongful death claim are the deceased's spouse or registered domestic partner, their children, their grandchildren. Stepchildren may not bring a claim unless they were "dependent" on the decedent prior to the death. CCP 377.60(b).
Proving a Wrongful Death Claim
Wrongful death claims are civil cases, not criminal cases. While criminal cases need to be proved beyond a reasonable doubt, civil cases only need to prove guilt by a preponderance of the evidence, which is a less stringent burden of proof. If a defendant is acquitted of wrongdoing in a criminal case, you are still able to pursue a civil case against them.
Statute of Limitations for Wrongful Death
Usually, you will have two years from the date of the wrongful death to file a claim for the wrongful death. If the death was caused by a government entity, you must file within six months.
Is Wrongful Death Claims the Same as Survival Actions?
While both are related to the death of a family member, they are not the same. Survival actions are essentially damages that could have been awarded to the deceased if they had recovered, such as pain and suffering. This might apply if the deceased had an injury that caused prolonged pain, but not an injury that caused immediate death. Compensation awarded by a survival action is awarded to the deceased's estate, while wrongful death claims go directly to surviving next-of-kin.
The biggest difference between a wrongful death claim and a survival action is creditor entitlement. If the deceased had unpaid bills – credit cards, medical bills, or other debts – these creditors are paid before the heirs receive their money.
What Happens to the Decedent's Medical Bills Incurred Before Death?
As noted above, the biggest difference between a wrongful death claim and a survival action is creditor's entitlement to the settlement. In a survival action, if the decedent incurred pre-death medical bills related to the incident, and those bills were paid for by Medi-Cal, The Department of Health Care Services may assert a lien against the recovery if the lawsuit included a survival action. Medi-Cal cannot assert a lien, however, if the action is strictly for wrongful death.
In Fitch v. Select Products Co. (State Dept. Of Health Services), 36 Cal.4th 812 (2005), the CA Supreme Court held that "… a Medi-Cal lien may not be asserted in a wrongful-death action when the damages recoverable by the plaintiff in that action do not and could not include compensation for medical services provided to the decedent by Medi-Cal." (Emphasis added.) The court reasoned: "Because the damages awarded in a wrongful-death action are for the harm done to the survivors, not to the deceased, medical expenses for treating the final illness or injury are not recoverable." Id. at p. 819.
Wrongful Death Claims and Uninsured/Underinsured Motorist Insurance:
Many individuals believe that in a wrongful death, only the insured individuals listed on an insurance policy are entitled to uninsured or underinsured motorist coverage. However, in many cases, this is incorrect. The insurance code provides that when an insured dies as a result of an accident, the heirs become "insureds" for the purpose of recovering wrongful death damages. Ins. Code, § 11580.2, subd. (a)(1), (b). Accordingly, the same people who would be entitled to a wrongful death claim – the deceased's spouse or registered domestic partner, their children, their grandchildren, and possibly even "dependent" stepchildren may be entitled to the benefits of a uninsured/underinsured insurance policy regardless of whether they paid any premiums or whether they are even listed on the policy or declaration page.
How Long Will It Take to Settle a Wrongful Death Lawsuit?
You may be struggling to make ends meet after losing a loved one, and you might want to settle your wrongful death lawsuit quickly to receive a settlement. The Law Offices of Harlan B. Kistler does not recommend accepting an insurance company's offer, because you will almost always settle for too little. It can take some time to settle a wrongful death claim, but you can count on our experienced team to get you the compensation you're entitled to. We will keep you updated on your case and are always available for questions.
Cost of a Wrongful Death Lawsuit
Most lawyers charge on a contingency fee basis. A contingency fee is a percentage of your compensation at the end of your case. This means that your attorney will only get paid if they win you a settlement or favorable verdict. As a result, in the event an attorney is unable to get you a favorable verdict, the lawsuit will not cost you anything at all.
Contact Our Wrongful Death Attorney
We know that you are facing a difficult time experiencing the loss of a loved one. You can count on the Law Offices of Harlan B. Kistler to help you through the wrongful death case process. Our experienced personal injury lawyer offers individualized service, and you'll pay no fee if we cannot recover compensation. Contact us today to get started with your free consultation.
Why Choose Us
Free Consultations Available
Over 25 Years Experience
No Recovery? No Fee!
Individualized Service
Our Firm Has Successfully Represented More Than 2,000 Clients, Recovering $5,000,000 Dollars For People Just Like You.